What Is The Difference Between Stinger Suit, Dive Skin, Wetsuit, Drysuit and Dive Suit
Posted by ecostinger on 19th Aug 2014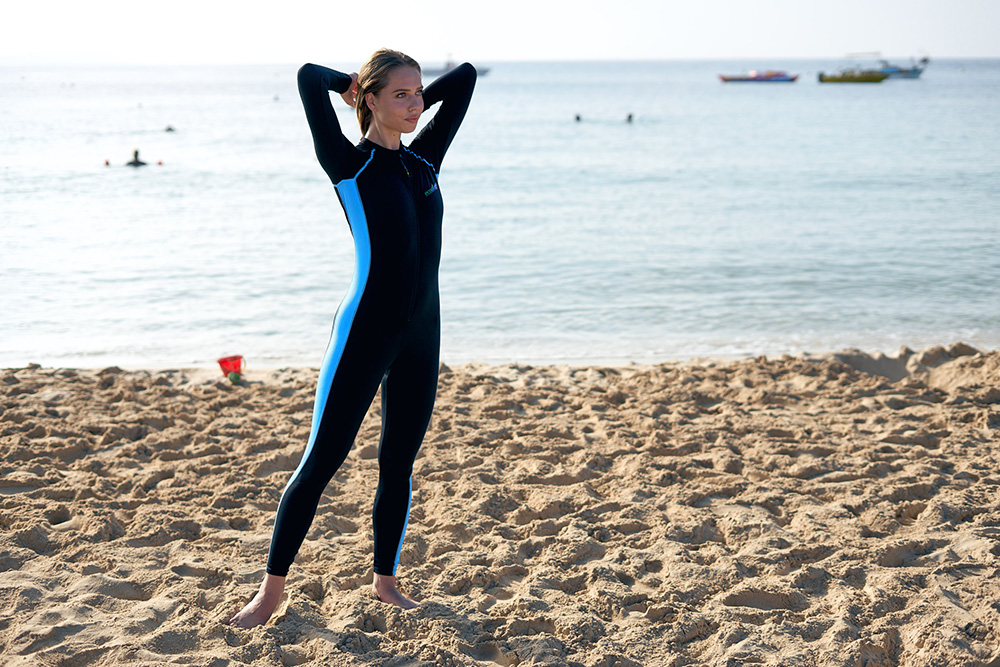 The Difference Between These Suits Can Be Summarized Into 2 Categories:
1. Stinger Suits and Dive Skins: suitable for water temperature around 20°C or 70°F and above;
2. Wetsuits, Dive Suits and Drysuits: suitable for water temperature between around -2 to 25°C or 28 to 77°F.
1. Stinger Suits And Dive Skins:
Both type of swim suits refer to the same category of full body swimsuit traditionally made from swimwear material similar to Lycra, Spandex, Elastane, Nylon and the new generation Polyester/PBT which is also chlorine resistant. These suits are commonly used for above water sports activities such as swimming, surfing, sailing, and under water activities such as snorkeling and shallow diving in water temperature starting from 20 °C (70 °F) or above, and can also be used in heated pools or hot weather conditions due to their thin material layer. This type of suits provide little thermal function, and does not seal the skin from getting wet, however they do protect the skin from the sun UVA and UVB radiation, Jellyfish stings, sea lice, abrasion and sunburn which can damage the skin and ultimately cause skin cancer. New generation stinger suits and dive skins are made from high quality chlorine resistant and shape retention fabric composed of Polyester and PBT yarn, they provide Jellyfish protection and UPF50+ UV cover. Some divers wear this type of stinger suit or dive skin under a Wetsuit or Dive suit, in order to allow easier donning, it also provides additional comfort and skin relief for those who experience skin allergy from neoprene or rubber material which most Wetsuits and Dive suits are made of.

2. Wetsuits, Dive Suits And Drysuits:
These type of suits are made from neoprene and/or rubber materials which provide thermal protection and can be used in colder water temperature between -2 and 25°C (28 to 77 °F) depending on thickness of the suit and insulation provided. They can be challenging to use especially where flexibility and comfort are needed.
Some light weight Wetsuits are made from thin neoprene (0.5mm) which can provide some freedom of movement to a certain extent, and it does not provide thermal protection or prevent the skin from getting wet. In general a light weight Wetsuit provide basic warmth and skin protection, and is suitable for light diving activities.
Dive Suits and Drysuits provide better insulation and waterproof then a Wetsuit, especially suits made of rubber material, which can also seal the skin from getting wet; they can be heavy and provide less flexibility, used for deep diving due to their ability in keeping the body heat in cold water temperatures. These dive suits are not easy to wear on or off, that's why experienced divers wear a stinger suit or dive skin under a Dive suit or Drysuit.
Comparison table:
Stinger Suits And Dive Skins
Wetsuits, Dive Suits and Srysuits
Fabric Composition:

Lycra / Spandex / Elastane/ Polyester

Neoprene / Rubber

Fabric Weight/ Thickness:

160 to 200 gsm (gram per sq. m)

0.5 to 5mm (millimeters)

Water Temperature:
20°C or 70°F and above

-2 and 25°C or 28 to 77°F

Activities:
Swimming / Snorkeling / Shallow Diving

Deep Underwater Diving
UV Protection:

UPF50+ blocks >97.5% of the UV Rays
UPF50+ blocks >97.5% of the UV Rays
Sea Animal Protection:

Jellyfish, Sea Lice and Sandflies

Jellyfish, Sea Lice and Sandflies

Comfort:
Very Comfortable

Can be restrictive

Ease of Wear:

Easy to put on and off
can be worn under a Dive/Dry Suit
Can be challenging
to wear and take off

Are you looking for a full body water swimsuit but not sure which fits your needs?
Full Body Swimsuit, Stinger suit and Dive skin have a thin and light weight fabric, perfect for use in snorkeling, shallow diving, surfing, underwater swimming, jet skiing, sailing, surfing, paragliding, scuba diving, competition and casual swimming in open waters or chlorinated pools due to its chlorine resistant ability; Fabric is similar to traditional swimwear material in touch and feel yet much more superior and durable, providing UPF50+ sun protection blocking >97.5% of the sun UVA and UVB radiation, protect against Box Jellyfish stingers and Sea Lice, retain elasticity and colors longer than all other swimwear fabric, and fits like second skin for maximum comfort and functionality. Some include built-in hood, lining, or flat-lock stitching which enhances the suit protection and compression ability. These suits can be used for all type of water sports activities, however If extra warmth or deep water diving is required than we recommend a neoprene or rubber wetsuit which can help preserve the body heat while swimming in cold waters.
EcoStinger produces exceptional quality Stinger Suits, Full Body Swimsuits, Bathing Suits and Dive Skins for Women, Men, Girls, and Boys using UPF50+ and chlorine resistant fabric, protecting your skin against the sun UV radiation, Jellyfish and the outdoor harsh environment! Get 20% OFF storewide, use coupon code 'WHAT20' while shopping at EcoStinger online shop Today!