How to pick the right full body swimsuit for your body type?
Posted by ecostinger on 22nd Jul 2016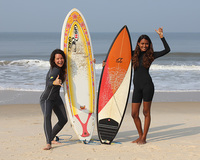 Finding the right swimsuit can remove fear and frustration when you are doing swimsuit shopping. From the athletic body to the curvier frames, the best swimsuit can fit your body. Hence, making you feel great. The following tips will assist you when looking for a well fitting swimsuit for your body:

1. The body type should be identified
While choosing the right swimsuit for your body, it is very helpful first to know your body type. The body shape and size can be found by measuring the waist, bust, hip, and shoulders. In fact, the method is not only simple but more reliable in the long run. All you need is a measuring tape and assistance from a professional or a friend.

2. Select the fabrics and colors which best highlights excellent features
The secret of a good swimsuit is that it will draw your eyes to the most flattering parts of your figure. This will enable you to feel more comfortable and have an amazing look. To achieve such features, bright colors should be used. Also, black or deep jewel tones are suitable for individuals with pale skin. On the other hand, it is more flattering to choose a swimsuit with bright colors if you have dark skin. For you to add volume with your swimsuit, it is advisable to select a piece which has riffles. Alternatively, you can hide the volume by use if ruched or shirred fabric.

3. Choose a swimsuit which is suitable for its primary use
It is useless to buy a string bikini if you are planning on a surfing or swimming laps. Regarding active workouts, the bikini is fairly limited in a sea or pool. However, the sport swimming suits have additional features which assist in both streamlining and comfortability. Therefore, you need to check them out as you are planning to keep by the pool. A one piece suit with plain color is required by the lifesaving strew. Moreover, wetsuit and shorts should be added to complete uniform. Nevertheless, the full body swimsuit is a figure enhancing item when you choose them correctly.

4. Get assistance from a professional
If you want to try shopping by your own, and you can't find anything, you need to request for some assistance. It is very vital to go to a store carrying styles which you like and inquire from a salesperson for his or her help. Moreover, don't be afraid of the feedback you will obtain. What you need to do is to respond in accordance and you will probably end up doing something which you like.

5. Choose a swimming store which is appropriate
There are various boutiques which specialize on the swimsuits. Thus, you need to do your research so as to find a perfect shop. Also, most of the clothing brands have their swimsuits which are available in their departments. Another possibility is online shopping. However, the site is reserved for swimming duplicates when you already know the type of swimwear which fits you.

6. The right cut should be chosen
Basing on a quick run-down of what you need to avoid, it is important to select a shirred panels with a solid, dark color. Boyshorts will make your hips wider regardless of the color. If you want your hips to match an hourglass shape, be aware that the style will feel uncomfortable with some women. Be certain that the right fit should only be purchased.

Conclusion
If you want to look for a swimsuit which will fit your body type, and you want to save time as well as frustration, you need to follow the guidelines highlighted. In addition to the body type, there are other factors such as expectant mothers or thinner figures which should be put into consideration. When you choose the right body swimsuit, you will not only enjoy, but it will make a dramatic difference in your swimwear. thus, it is significant to adhere to the factors mentioned above.